Alternate Title: How I spent my summer in 2011 or My adventures in Illustration.
This last summer of 2011 I was commissioned by a New York advertising agency to complete a painting for Jameson Irish Whiskey.
This marks the first commericial illustration assignment I've accepted since my transition to fine art over 10 years ago!
Their idea was for me to paint a 18th century inspired painting depicting founder John Jamison in a act of heroism to secure the safety of the secrets to his Irish Whiskey. Working the entire summer on their concept, we eventually finalized the sketch based on their initial concept of depicting John Jamison in the interior of a whiskey distillary in the midsts of a crowded arm wrestling contest.
To give you an idea of the big production this was, the agency shelled out 11K for the photo shoot alone to provide me with the appropriate photographic reference material to paint from. This turned out to be the highlight of the project, as it was great fun to direct such a big production of actors, models in costume using the services of a professional photographer and equipment.
| | |
| --- | --- |
| | That's me playing Director on the far left in shadow, and not aware I was in the picture frame! |
The process of developing their concept took up to 6 weeks, 3 weeks of revisions and changes. Difficult changes were requested, such as removing the apron and sleeves of our lone woman model and implanting the face and likeness of the TV actor who portrayed John Jameson into the model we used, working from a screen shot off the TV!!! Somehow I managed to accomodate them and the following images show a step by step from final sketch to final art. After completion and approval of the underpainting, I painted 22 consecutive days and nights (including weekends) to complete the painting on deadline. My wife wisely took the children out for two consecutive camping trips to steer clear of my work frenzy.
| | |
| --- | --- |
| | |
| Preliminary sketch, black and white pencil on gray matte board. | Underpainting or drawing in raw umber, 34" x 62" oil on canvas. |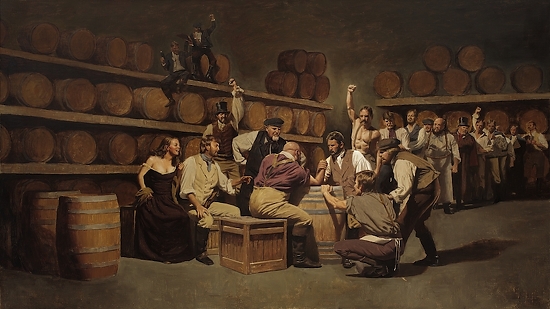 Final Painting, 34" x 62" oil on canvas, 2011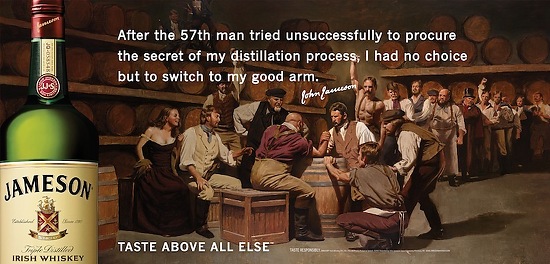 Final Layout Design
Below are pictures of my painting ad now on the subways of New York City. They are also showing up in San Francisco.
I must say, all this hard work has paid off and its fun to see the results!
| | |
| --- | --- |
| | |
| | These photos (courtesy of my brother James) were taken of the Jameson art currently on the subways of NYC! |