Now that my 10 Year Retrospective has closed and I have time to reflect, I've posted many pictures from the opening reception on April 13th.
I was very pleased with the display and arrangement of my work. It was quite a task gathering what numbered 46 paintings, many from private collections. In my opinion, the display of originals, was more representative of my work than my recently published book. Nothing replaces viewing original art. This particular display of work will never happen again. I am thankful to the PG Art Center for hosting the exhibit and in particular Director Jaqui Hope for her kindness and just being so easy to work with. The art center boasts one of the largest gallery spaces on the Monterey Peninsula and it attracted a respectable audience, both at the reception and after. So I think I was able acccomplish my goal of exposing quality realism and thought to people in the Monterey area.
Along with my own exhibit, my father Namgui Chang also had an exhibit of his lifetimes worth of work, spanning 50 years, in the adjacent gallery. The first exhibition of his work ever. Without prejuduce, I can honestly say, his exhibit was a well deserved "smashing success".
For those who missed this exhibit, Longtimers Productions has filmed my exhibit as well as my father's with accompanying interviews to be aired on local public television show "Life in the Arts" and to be posted on Youtube. I'll keep you posted regarding its release in future announcements.
Here are the pictures, courtesy John Fleskes and James Chang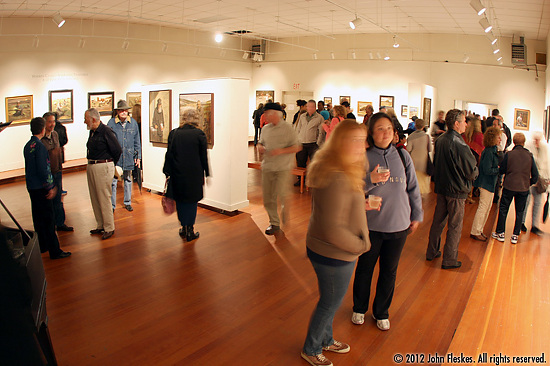 | | |
| --- | --- |
| | |
| | |
| | |
| Posing with everyone's favorite, Ed Leeper next to his portrait. | Flesk Publisher, John Fleskes chats with Chris Winfield, owner of Winfield Gallery, Carmel. |
| Discussing my frames with my good friend, artist Mark Roberts. | My father and I pose next to one of his paintings in the adjacent gallery. |