I'll be participating in this years Monterey Museum's Miniatures, an Annual Exhibition and Fundraiser for the Monterey Museum of Art.
My painting this year, is a small Master Copy of Diego Velazquez's "Fable of Archme", Detail.
This is an opportunity for anyone to own one of my paintings for as little as $30.00.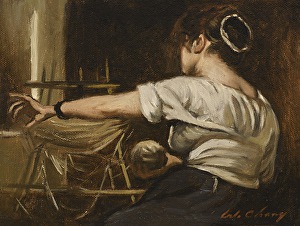 Master Copy of Velazquez, 6" x 8" oil on panel
DATES TO REMEMBER

Wednesday, November 20, 6–8 pm, (note new time!)
Miniatures opening celebration
Friday, December 6, 6:30–8:30 pm, (note new time!)
Miniatures artists' reception
Tuesday, December 31
First Night celebration and last day to purchase tickets
Thursday, January 2, 2014
Miniatures winner's ticket drawing
Saturday, January 4, 2014
Winner's names and ticket numbers posted online at montereyart.org/miniatures
Sunday, February 23, 2014
Final day for winners to pick up artwork