Steinbeck: The Art of Fiction
Jan 15 through March 31, 2015
Reception: Friday, January 23, 2015, -8pm
American Tin Cannery, 2nd floor
125 Ocean View Blvd.
Pacific Grove, Ca 93950
Contact: Lew Aytes, 831-278-6641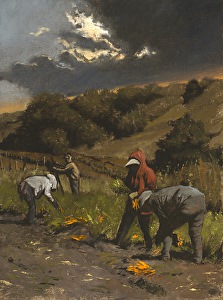 Rediscover Steinbeck on Cannery Row
In celebration of literary genius John Steinbeck and in recognition of Steinbeck Country, an exhibit featuring artistic interpretations of the author's fiction will be featured at the American Tin Cannery at the west end of Cannery Row beginning January 15.
Sculptor Lew Aytes, photographer Robert Nease and painter Warren Chang have created this exhibit that also includes the Robert Lewis Exhibit of Cannery Row Photographs (1957-1958). The exhibit was first created for the National Steinbeck Center by Aytes and Nease, and has been expanded to include Chang's paintings of fieldworkers, and historic Lewis images of Cannery Row provided by Michael Hemp and The History Company.
Steinbeck was an artist of fiction and a master painter of words. His written illustrations of people and places draw you in, become real and endure. This exhibit brings together three accomplished California artists who, through sculpture, photography and paintings, have brought artistic interpretation to some of Steinbeck's most memorable works of fiction.
Sculptor Lew Aytes' 3-dimensional faces represent his visions of Steinbeck's characters. Commercial and fine art photographer Robert Nease brings an artist's eye for lighting and composition to the exhibit, creating interior images and landscapes that accompany the writer's story lines. Warren Chang's paintings portray fieldworkers within Steinbeck Country that were inspired by the novels, as well as the Monterey Peninsula within which Chang was born and raised.
The Robert Lewis photographs have been preserved by Michael Hemp of The History Company, and bring a dimension of historical reality that "Steinbeckians" will find memorable and factual.
The exhibit runs through March 31, and will be open Tuesdays through Sundays from 10:00-5:00 beginning January 15. The Opening Reception will be held Friday, January 23 from 6:00-8:00 pm, and is open to the public. Beverages will include Beer Milkshakes, inspired by Ed Ricketts in the book, Cannery Row. The reception is being hosted by the Cannery Row Foundation, an organization formed "to preserve the historical and literary resources of Cannery Row… and to research, interpret, educate, disseminate, and celebrate the unique multi-cultural essence of Cannery Row's historic, literary, cultural and ecological legacies."
The exhibit will be located on the second floor of the American Tin Cannery, 125 Ocean View Blvd, Pacific Grove, just around the corner from the Monterey Aquarium.